Meniscal Injuries & Tears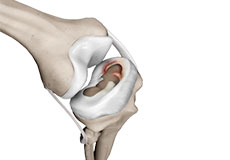 Meniscal tears often occur during sports. These tears are usually caused by twisting motion or over flexing of the knee joint. Athletes who play sports such as football, tennis and basketball are at a higher risk of developing meniscal tears. They often occur along with injuries to the anterior cruciate ligament, a ligament that crosses from the femur (thighbone) to the tibia (shinbone).
Meniscus tear is the most common knee injury in athletes, especially those involved in contact sports. A sudden bend or twist in your knee causes the meniscus to tear. This is a traumatic meniscus tear. Elderly people are more prone to degenerative meniscal tears as the cartilage wears out and weakens with age. The two wedge-shaped cartilage pieces present between the thighbone and the shinbone are called meniscus.